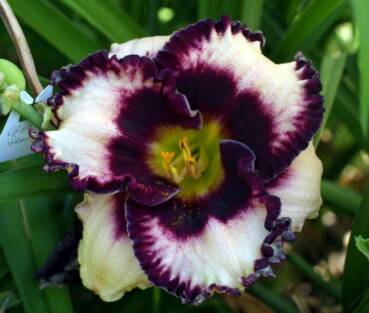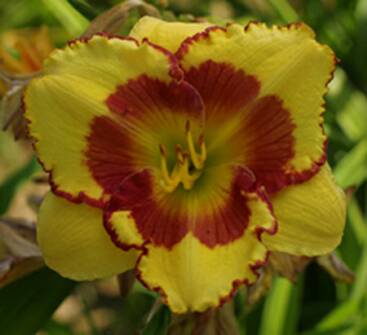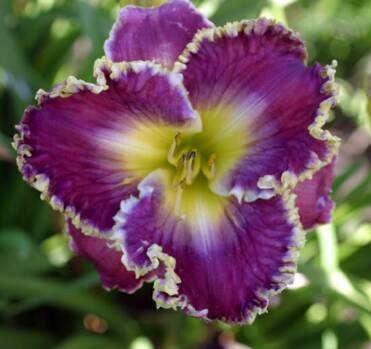 DARK REFLECTION (KELLY MITCHELL 2005)  TET

( BOLD ENCOUNTER x BORDER MUSIC)

               4 3/4" evergreen, early, 25" scapes rebloom

               4 to 5 way branching with 30-35 buds

DARK REFLECTION is a step forward in contrast.  The very dark blackish eye and edge are offset by a near white base color. The throat is an intense green that holds during the day. The flower is very bold and clean looking.  Not to mention the wonderful full form, strong growth, great scapes, and heavy rebloom. A good opener, DARK REFLECTION is one of the first flowers to bloom in our garden in the spring and keeps going through the summer. On rebloom and established plants the dark edge is often glided in metallic silver.  A good parent for getting a whiter shade of base color on picotees as well as large bold  edges. It is fertile both ways being a very easy pod parent.  Display

.STORM SHADOWS (KELLY MITCHELL 2005) TET

(SEEDLING X SEEDLING)

6" evergreen, midseason late, 26" scapes rebloom

3 way branching with 20-25 buds

A very big and full rich purple flower with great color.Petals are often 3 1/2"  and surrounded with a fancy edge primarily white with occasional hues of pewter and light gold.

STORM SHADOWS has great potential for breeding as well as being a garden standout. It has excellent foliage that

isn't upright like many of the purples.  It opens well and

has heavy substance that does well in the hot sun.

Fertile both ways with strong pollen.  Moderately easy

as a pod parent.  Good vigor.

Display

2005 DAYLILY INTRODUCTIONS

                                 LEMON ROUGE (KELLY MITCHELL 2005)

          (DESPERADO LOVE X MONTEREY JACK) F2

          5 1/2 to 6" semievergreen, midseason, 26" scapes

         4 to 5 way branching with 30 to 35 buds

A very bright and cheerful flower.  Yellow daylilies with red eyes and edges are a personal favorite of mine.  I have many seedlings  from LEMON ROUGE to bloom in the coming spring.  I can hardly wait.

A pretty light yellow with a vivid rose red eye and edge that loves the sun. Very full with 3" plus petals and wide blunt sepals.  An excellent opener in our cool mornings here.  In colder winters here it does go to the ground, but most winters just half way. It may well act as a dormant in colder climates. An easy parent both ways. 

Sold out