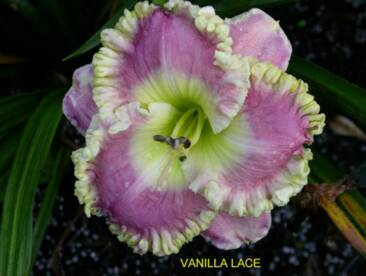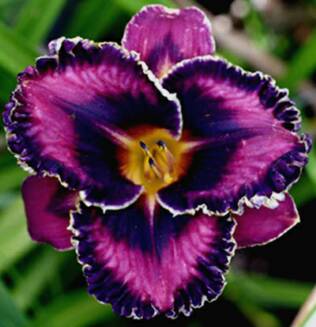 VANILLA LACE  (Kelly Mitchell  2006)  Tet

(Key Lime Ice X Seedling)

5" evergreen, early mid-season, 22"

rebloom,  15 to 20 buds

     VANILLA LACE  was a wonder when it bloomed the first time.  It had the biggest edge I had gotten on any seedling up to that point.

      VANILLA LACE  has good substance and holds well in full sun. The flowers bloom above the shorter foliage, and open well.

The color is lavender which has a more pinkish color in warmer weather. The edge is predominately white with some yellow or gold occasionally. It has a nice extending green throat.  It has been fertile

both ways.  It has been moderately easy to use as both a pod and

pollen parent.  A very pretty flower .

                                                    sold out

QUEEN'S CIRCLE (Kelly Mitchell 2006)  Tet

(Awesome Blossom X Tet Lavender Blue Baby)

5"  evergreen, early mid-season,  26"

rebloom, 25 to 30 buds

      QUEEN'S CIRCLE  brings a different double edge to daylilies.  The color of  QUEEN'S CIRCLE is a rich red violet with a dark blackish eye and double black and white to silver metallic edge.   

         I have been using QUEEN'S CIRCLE to breed for double edges with  wider metallic silver edges.  This has been made easier by the fact that QUEEN'S CIRCLE is a very easy pod parent.  Pollen is also easy to use.

QUEEN'S CIRCLE is a vigorous  grower with  attractive foliage.

Makes a beautiful clump.

                                             Display