Rainbow Acres

Box 2191

North Highlands, CA 95660

916.331.3732

  e-mail: Kelly@rainbowacres.net

2007  INTRODUCTIONS




RAINBOW ACRES

BOX 2191

NORTH HIGHLANDS, CA

95660

916-331-3732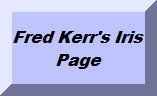 PINK ENDURANCE  (Kelly Mitchell  2007)  Tet

(J.T. DAVIS X BELLE COOK)

5 .5 to 6"  evergreen, early mid-season, 24"

rebloom,  20 to 25 buds

     PINK ENDURANCE is a good name for this daylily. It has

the most vivid, true pink color I've seen of  any  pink daylily I have grown in my garden over the years.  It  colors up very well in the hot weather instead of going pale as well as having excellent substance that holds up in the hot sun.

         PINK ENDURANCE has deep ruffles with a strong white

to cream edge.  The edge can be very thick on established plants

and rebloom.  The photo above was taken on a first-bloom scape.

It generally has three branches with 20 to 25 buds.  It is moderately

easy as a pod parent and easy as a pollen one.  Many of its offspring have excellent pink color and substance.  A good parent.

                                                   Sold out

ROYAL SPECKLES  (Kelly Mitchell 2007)  Tet

(GINNY MITCHELL X SEEDLING)

6"  evergreen, early mid-season,  26"

rebloom, 25 buds

         BROWN LASSO (Kelly Mitchell 2007) Tet

((RASPBERRY BERET X DESPERADO LOVE) X (MONTERAY JACK X RASPBERRY BERET))

  6.5"  dormant, early mid-season, 32"  

rebloom 30 to 35 buds

      BROWN LASSO is a very different, large buckskin based flower with a clean mahogany brown eye and large edge. BROWN LASSO gets browner as the day goes on ending up with a rich  chocolate-colored eye and edge by the late afternoon. It is one of the largest sized picotees I grow. BROWN LASSO is very sun resistant.  For some reason sun resistance has been difficult to breed into the browns so I was more than thrilled when BROWN LASSO showed up in the seedling patch looking good all day long in the sun.  Excellent height and scape with 4 to 5 way branching with 30 to 35 buds.

Easy parent both ways.  Many shades of brown showing up in

its seedlings.

                                                     Display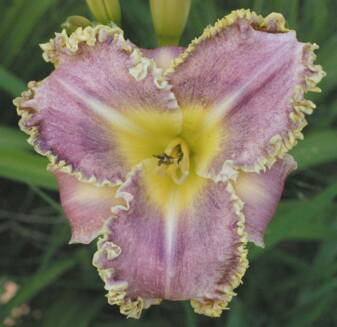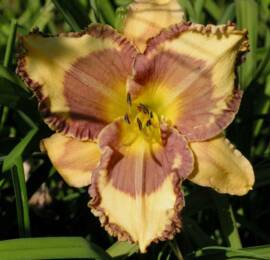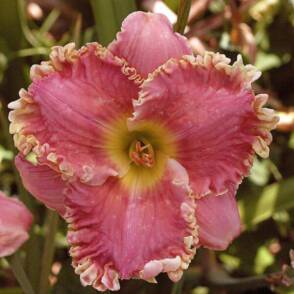 ROYAL SPECKLES brings a fancier face to stippled daylilies.  Most of        the current stippled ones are tailored with not much ruffling or edging.    ROYAL.SPECKLES  has  a cream orchid base with darker lavender-purple eye and double-lavender purple and cream to gold edge.  There is lavender-purple stippling throughout the flower with it being more concentrated in the edge and eye.  I am hoping ROYAL SPECKLES will lead me to a daylily flower with the boldness of the plicatas in the iris.  It does pass on stippling to some of its seedlings.  A few seedlings have

shown a tendency to have broken colors .

                                                            Display