RAINBOW ACRES

BOX 2191

NORTH HIGHLANDS, CA

95660

916-331-3732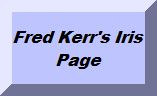 MILDRED ANNE  (Kelly Mitchell  2010)  Tet

(STORM SHADOWS X SEEDLING)

6 " evergreen, early mid-season 30"

rebloom 28 buds

  A deep rose red of wonderful clarity. Wide, full form with nice ruffling and a good white edge. A lighter watermark and green throat.  MILDRED ANNE holds its color well in the heat.   All three of my introductions for 2010 are all about white-based clarity of color.  White-based flowers, I think, will steadily become a larger proportion of new daylilies as the color is clearer than yellow-based daylilies.   Fertile both ways.  Gives clear colors as a parent. A flower named for my mother who passed away this past October.  I was happy she was able to know about it

$35.00 Double fan

HAZEL GRANGER  (Kelly Mitchell 2010) Tet

( Queen's Circle x Sdlg) X (Ginny Mitchell x Sdlg)

5 1/2"  semievergreen, early-midseason 30"

heavy rebloom 26 buds

A stunning color combination.  Deep red violet with a deeper blue-black eye and edge.  HAZEL GRANGER has an outer edge of white that sets it all off beautifully.  Great clarity of color has arrived in daylilies and will continue to improve.  Large, vigorous grower.

Fertile both ways and a good parent for blue eyes and edges. 

                                     Sold Out



BUBBLEGUM DELICIOUS  (Kelly Mitchell 2010)  Tet

PINK ENDURANCE X (VANILLA LACE X SDLG)

6" evergreen, early mid-season, 28"

rebloom   25 buds

A fluffy, beautiful white edge on this crystal clear white-based  bright pink.  The picture is of a flower on first bloom.  Later blooms can have twice the edge. Vigorous, dark green foliage.  A great parent for vivid pinks with edges.  The picture doesn't do the color justice.  Seeing it in the garden is breath taking. Very fertile pollen, moderate pod parent.

$45 Double fan